There are few cities in the world with universal recognition such as London. The UK hub of economics, culture, and occasion, London carries with it a certain gravitas that truly needs no introduction. We spent a week there this fall and, while it's not our first visit, its vast size and expansive offering of galleries, shops, and restaurants, always keeps the city feeling brand new.
STAY
52 Cambridge Street
51.49051° N, 0.144871° W
A boutique hotel in the south-west neighbourhood of Pimlico, the Artist Residence London is but one of four unique locations in the AR portfolio in the UK. Located on a quiet residential street lined with 19th century Regency architecture, the AR London has just 10 beautifully situation rooms.
While we awaited check-in, we enjoyed a light breakfast of house-made sourdough with avocado and a pot of fresh ginger tea at The Cambridge Street Kitchen—the street level cafe next-door to the lobby. Nestled in a brightly lit corner, we watched patrons both local and from afar dig into plates from chef Elliot Miller and converse over coffee.
We stayed in the Grand Suite, an "eclectic luxury" room that welcomed us with a familiar ease. As we took a peek around the suite, our focus was immediately drawn to the bathroom. A spacious enclave outfitted with a double-basin marble counter and Catchpole and Rye soaking tub. If the bathroom was the room's crown, then the tub was surly the crowning jewel.
Royal Victoria Dock, Western Gateway
51.507694° N, 0.019097° E
For the second half of our trip, we journeyed east to the Good Hotel in the Docklands, a quiet waterfront neighbourhood. When we say waterfront, that's an understatement. A redesigned industrial floating platform, the Good Hotel sits at sea level: zero. Standing by wrap around windows gave the illusion of walking on water. A calm resided here despite being just 20 minutes from London centre. A welcomed feeling contrasting the often frenetic energy of London's sheer size.
With pockets of inviting space and approachable contemporary design, the aptly named "Living Room" area for guests felt like just that. On clear days with the sun peeking behind London's stereotypical cloud cover, head upstairs to the Roof with it's full bar and views of the River Thames. An impressive view too for a yoga practice, which the Good Hotel offers on weekday evenings and weekend mornings.
Good for the mind, good for the body, the Good Hotel London is in fact the property's second location and part of a much bigger initiative. "The purpose is to extensively train locals for various jobs in the hospitality industry." Job training and placement in London, a ways away the Good Hotel operates with NGO partner Niños de Guatemala too. For every night booked directly through their website, 5 GBP is donated.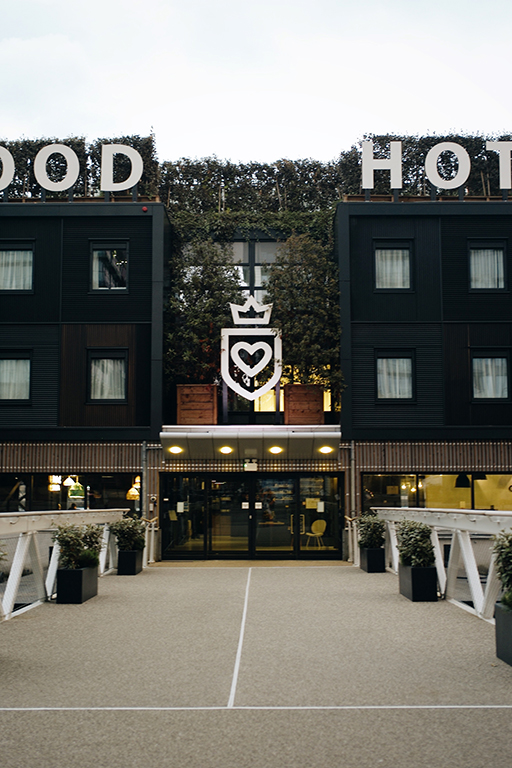 DINE
49 Frith Street
51.513606° N, 0.13168° W
With established restaurants such as the Michelin starred Gymkhana and popular Bao under their belt, Hoppers doesn't escape what seems to be the Midas touch of siblings Karam, Sunaina, and Jyotin Sethi. As orders of claypot kukul maas, string hopper seafood kothu, and kalupol leave the kitchen diners are enveloped by tantalizing aromas and edible spectacles of delicate towering bowls of rice flour and coconut milk pancakes.
5 Stable Street
51.536175° N, 0.125448° W
A highly praised recommendation from our friends at 12hrs, after reading their review, you too will high-tail it straight to Dishroom. "It has been modeled after the Bombay Cafés that flourished in the Indian city during the 1960s. Built by Persian immigrants, there were once almost 400 of them in Bombay, and they attracted everybody – from sweaty taxi drivers to businessmen and families. Dishoom wants to be as uncomplicated as these establishments, and it manages that with ease. The crowd is very diverse, and the décor reminds you of far-away places, with faded pictures on the wall and fans slowly turning on the ceiling. The food is outright fantastic!"
Tea Building, 56 Shoreditch High St
51.52376° N, 0.076285° W
With its paired down and airy dining space, the food takes centre stage at Lyle's in East London's notoriously hip neighbourhood of Shoreditch. Relaxed and casual, the setting is unassuming for the fare you're about to have. Awarded a deserved Michelin star in 2015, Lyle's menu works with seasonal British produce in an elevated yet relaxed approach. With a young but deft roster both in the kitchen and front of house, if Lyle's is an indication of London's dining landscape, the future is looking bright.
EXPERIENCE
Store Studios
180 the Strand
51.512271° N, 0.114958° W
Encompassing an impressive 10 studio complex in the centre of London, the Store at 180 the Strand is a new meeting place for city's art zealots. The home of London Fashion Week since its inception in 2016, it has previously hosted exhibitions with Louis Vuitton, Moving Museum and Punchdrunk. The space houses a mix of creative companies including Dazed Media, The Vinyl Factory, The Spaces and FACT magazine.
The Barbican
Barbican
51.519092° N, 0.094079° W
With a world-class arts centre, the second-largest conservatory in London, public library, and YMCA, it's no wonder why the Barbican is a place of congregation. Not to mention it stands as the leading example of brutalist architecture—both beautiful and daunting in it's scale and glory. Developed during postwar 1960s and '70s as a means of affordable housing, it's matured into something far greater.
Koenig Books
80 Charing Cross Road
51.512727° N, 0.128691° W
A tight two-level corner shop in London's West End Theatre District, is a haven for any art book lover. With considered monographs, magazines, and tomes on art, architecture, and photography, don't be surprised if you walk away with a heavy stack of books in your arms and a considerably lighter wallet. If for some reason you should find yourself restlessly searching for something specific, all Koenig locations (with one in the Serpentine Gallery and the other in the Whitechapel Gallery) have access to the entire catalogue of the Buchhandlung Walther Koenig in Cologne for order.